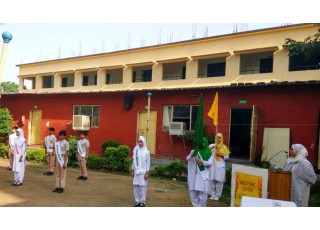 "If your actions inspire others to dream more, learn more, do more and become more, then you are a leader."
Leaders are usually not born but are made by their experiences in life. To inculcate the leadership qualities in students and to give them a feel of leaders and a sense of responsibility the new "Prefectorial Body" was formed at The Scholar School and the Investiture ceremony was held on Wednesday, 19th April 2017 in the School premises. Deserving young talents of the School were bestowed with the responsibility of leading their school from the front with their commitment, confidence and competence.
The school held the Investiture Ceremony with great enthusiasm. The Investiture Ceremony marked a significant beginning of the new academic year.It was a solemn occasion where the council ministers were all prepared to don the mantle of leadership and discharge the responsibilities entrusted upon them by the school.
The event began at 8:00 am with Qirat. Then all the council ministers marched towards the ground where they were conferred with sashes by the Principal of the school. Parents of the council ministers also witnessed the event and graced the occasion by their presence. Sauliha of class VIII was selected as the President of the school while Ghazi Sikander, class VIII was appointed as the Prime Minister of the school. CCA Incharge administered the oath to the members of the council. The students' council took the pledge to hold the school motto of Loyalty, Truth and Honour in high esteem. The program was concluded with a short speech by the school Principal who congratulated the newly appointed ministers and admonished them to be impartial and honest in discharging their duties. She also exhorted them to uphold the Islamic values. She reminded them that with position comes responsibility towards themselves, their school, their peers, their society and their country.