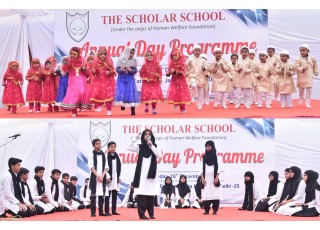 The Scholar School celebrated its ANNUAL DAY PROGRAM on Sunday, the 16th December, 2018 amidst great zest, vibrancy and elation. Mr. Mohammad A. Abid, District Commissioner (HQ) Dept. of Revenue Delhi Govt. was the Hon'ble Chief Guest on the occasion. Prof. M. Afzal Wani, Director, University Legal Cell, Indraprasth University Delhi and Mr. Syed Sadatullah Husaini, Vice President, Jamaate Islami Hind were Guests of Honour.
The programme commenced with the recitation of the Quran. Bouquets and mementos were presented by students to honorable guests.
The Principal, Ms. Mahpara Jan delivered the welcome speech and introduced the Hon'ble Chief Guest and Guests of Hounor to the gathering.
All the programs of Annual day not only entertained the audience by humorous Qawwali on exam Phobia and different actions songs performed by Pre-Primary section but at the same time programs covered and depicted the socio-political issues and Islamic values through street play on Soch Badlo, skit on Good Habits, Mute Act on Parents' Investment and Children's Return, Tala-Al-Badr (Welcome of Prophet in Madina), Drama on Kakori Conspiracy of Ashfaqullah Khan etc. All the students displayed their fabulous performance. The Chief Guest Mr. Mohammad A. Abid was superlative in his appreciation of the students, teachers and management for a wonderful programme presented. In his speech, he emphasised on Moral Education, responsibility of students towards their parents and also towards the Nation.
Guests of Honor emphasized on the quality education and wished for the bright and better future of the students through The Scholar School. They also appreciated the performance of the children and applauded the achievements of the students of the school.
Members of the school management committee such as Mr. Naufal PK - CEO Human Welfare Foundation, Dr. Habibul Rahman VM - Asst. Prof. Jamia Millia Islamia University, Mr. Salimullah Khan - Sr. Education Manager, HWF, Mr. Javed Ali and a gathering of approx. 700 people were present in this program. The program was managed by Administrator of the school, Qazi Muhammad Miyan and was conducted by Ms. Saima Akhtar. Finally the program was concluded by thankful notation of Vice- Principal, Ms. Hira Irfan. After the end of the program food stalls and Craft exhibition were also organised.